Aurora Institute Issues Statement on the Nomination of Dr. Miguel A. Cardona as Education Secretary
Published on
Jan 04, 2021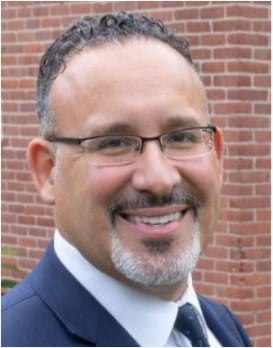 Susan Patrick, President and CEO of the Aurora Institute, issued the following statement today on the nomination of Dr. Miguel A. Cardona as the next Secretary of the U.S. Department of Education:
"The Aurora Institute congratulates Dr. Miguel A. Cardona on his historic nomination to serve as the next Secretary of Education. Dr. Cardona has a distinguished history as a strong advocate for educational equity, and his professional and personal commitment to the future success of all children makes us optimistic for the road ahead. We pledge our best efforts to support the incoming administration in what will inevitably be a challenging year of re-opening and recovery, restoring hope, expanding opportunity, and transforming education."
Read more: https://aurora-institute.org/news/statement-on-nomination-of-miguel-cardona-for-u-s-secretary-of-education/
The post Aurora Institute Issues Statement on the Nomination of Dr. Miguel A. Cardona as Education Secretary appeared first on Aurora Institute.